In Osceola County, FL, pet license fees are an important source for funding essential animal services. When you license your pet, know that you are doing your part to help pets in your community. This includes lost, injured, abused, or abandoned pets.
We are proud to call Osceola County Animal Services an official Safe&Happy Partner. We will always donate 20% of every designer tag sale to OCAS in an effort to provide additional funding for the community's vulnerable animals. OCAS staff are doing some pretty amazing things for local animals in need, read on to learn more about this great organization!
3,330+
animals sheltered
each year
1,100+
adoptions
each year
35
full time staff members
174
volunteers
545
lost pets
returned to families
3,200
volunteer hours worked
(10k outside of COVID)
Talkin' Shop
We spoke with Executive Director Kim Staton about what's been going on with Osceola County Animal Services.
What is something you are really proud of as an organization? Prioritizing the environment for the animals.
What is something that makes your shelter unique? We are the only animal shelter in Osceola County, which means we deal with a much wider variety of animals than many animal service organizations do. Our officers respond to venomous snake and alligator calls, injured wildlife, livestock, dogs, cats, etc. We have rescued horses from the roadway and gotten them out of swimming pools. We do it all!
Can you share a story of a specific pet you helped recently? Officer Ford brought in a stray dog to our shelter on October 22, 2020. She is a female, blue and white pit bull that was picked up on a country road in Osceola County from an area we suspect dog fighting occurs. Unfortunately, we have not been able to gather adequate evidence to pursue an investigation. It is obvious this super sweet dog with personality was in many fights. She was very sick when she arrived with a badly abscessed area on her right hip that required surgery. She had other wounds that required cleaning and suturing. She was lethargic, painful, and significantly underweight. Many photos were taken of her upon arrival to the shelter in the event we were able to gather additional evidence.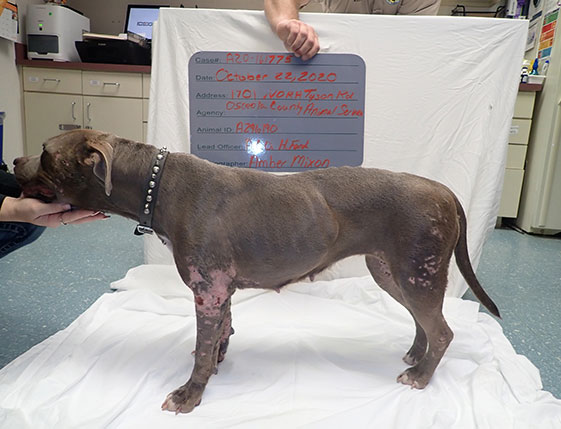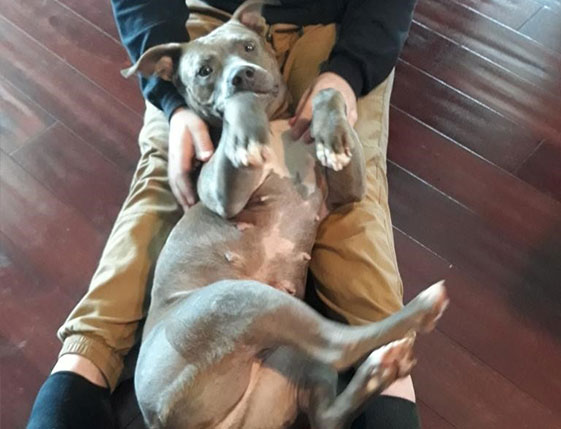 After spending considerable time at the shelter being treated, healing, and getting lots of TLC, she was placed into foster. She has an injury to one of her back legs that we are "waiting to see" if it will heal on its own or require additional treatment, possibly surgery. I have included photos of Nora, endearingly named after the road on which she was found, in foster care. As you will see, she is a gorgeous, happy dog who spends her days lounging on the couch and getting belly rubs. Nora stole our hearts like so many of the pets that come into our care. We love them all and work hard for those without a voice, like Nora.
What is a program that you run that is really important for people to know about? I really love our pet retention program as it allows us to help owners and their pets. Oftentimes owners cannot afford the cost of veterinary diagnostics which is often followed by an expensive recommendation for treatment, so we assist them as funds are available.
How many donors do you have? We average about 100 individual donors a year but we are in the process of developing a donor program. We now have donor software and will be promoting a monthly donation program soon.
To what extent are pet license fees contributing to your overall budget? The reason licensing revenue is so important is because these funds are used to support local animal welfare programs such as the low cost spay/neuter clinic, SniP-it (a soon-to-be opened low cost veterinary clinic at Harmony High School). We have also used funds to help sheltered pets that need veterinary care beyond what we can provide at the shelter.
What is something you are raising funds for today specifically? I would say pet retention since the number of pets and pet owners we can help is based on what is available in our donation account or grant funds. We always need funds for retention efforts. There is also concern nationally that the long term economic impact of Covid-19 could result in more pets being relinquished due to financial hardships. We want to be able to help pet owners as much as possible to prevent that.
Do you have any specific advice for pet owners that you'd like to share? When deciding on adding a new animal to your family, have a discussion with your family to determine what your expectations are first. Active families do not always want an active pet. Sometimes a runner is looking for a pet to hang out on the couch with after a long run. Sometimes, a runner is looking for a new buddy to explore new trails. Families with small children may have the time and energy to train a new puppy or they may be better off with a well-established, calmer older pup. Our community is filled with so many different personalities and lifestyles that we know every pet has a perfect furever family waiting for them!
For more information about OCAS, visit
https://www.osceolacountypets.com/